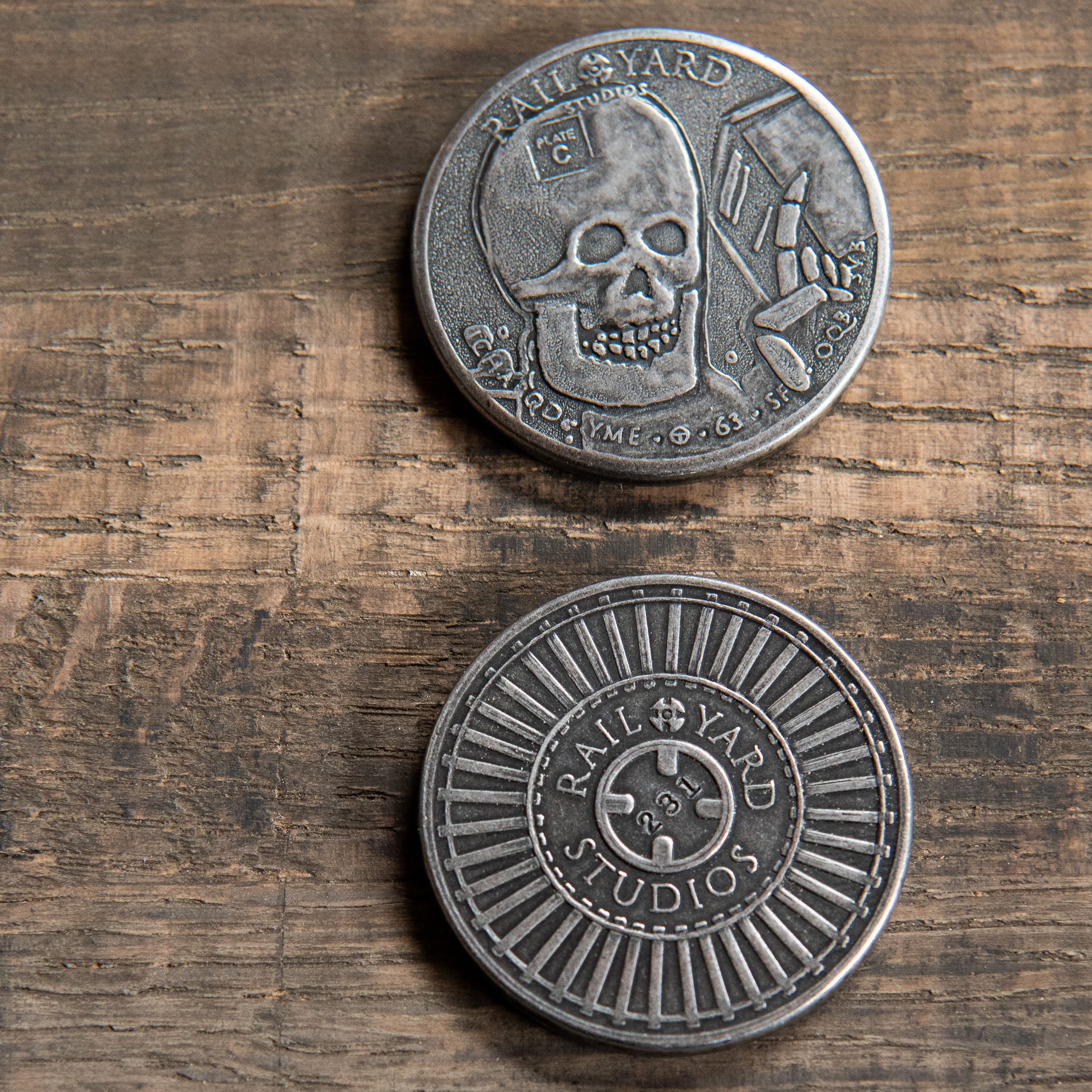 ICHABOD BM 3375 Coin
Struck in collaboration with infamous freight graffiti artist, ICHABOD, the ICHABOD BM 3375 Coin features his iconic skull on the obverse (heads) side of the coin as it appeared on a Pan Am livery boxcar, reporting mark BM 3375.
The reverse side of the coin bears a circular track and the Rail Yard Studios brand as well as a serialized number unique to each coin. This circular track image also will serve as the reverse side for a forthcoming Rail Yard Studios commemorative coin.
The coins are 1.19" diameters in blackened steel.
Details on the offering are at the end of this article.
The minting is a limited edition run of 250 pieces in blackened iron individually numbered 000 through 249.
The selection of a Boston & Maine heritage car made a fitting choice given the artist's affiliation with the Circle T and YME crews hailing from the respective Boston and Maine areas.
We wanted to make the coin widely available to fans of the Rail God while making them exclusively interesting, so we have set different levels and perks associated with the numbering in the sequence.
Details on the offering and availability are at the end of this article.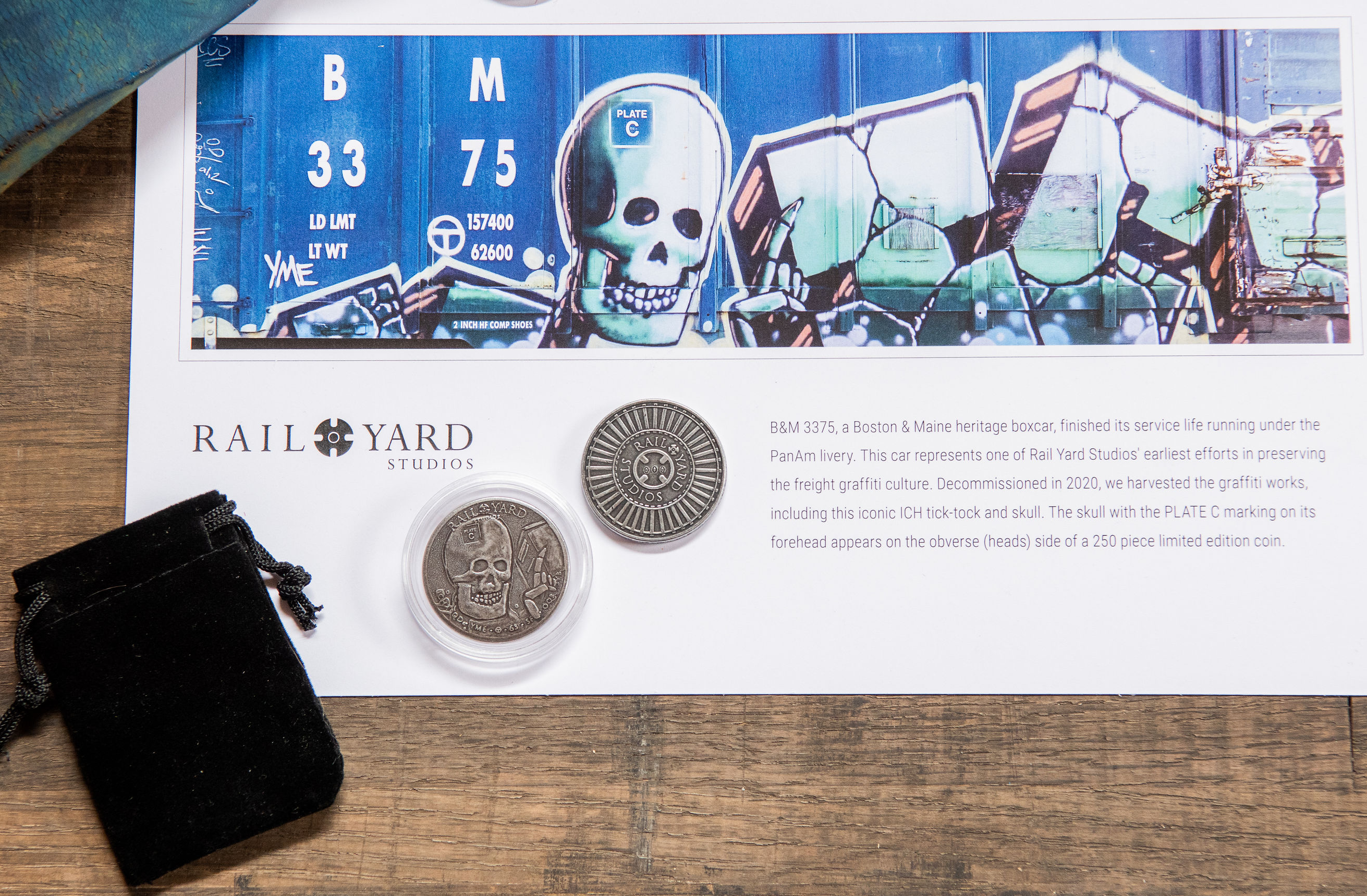 About ICHABOD
One of the most prolific and most recognized freight graffiti artists today, yet also one of the most elusive and mysterious, ICHABOD enjoys a legendary reputation among graffiti writers. He counts over 5,500 cars to his name as of the minting of this coin. Writing ICH, ICH!, ICHABOD and the occasional ICHOR, his most iconic compositions incorporate highly recognizable Helvetica-style tick-tock letters accompanied by the image of a skull as on BM 3375.
Shout Outs
While Circle T and YME represent the most widely known crews affiliated with ICHABOD, the coin also shouts out other ICH-affiliated crews including 63, SFL, OQB and 3YB.
Preservation
Like ICHABOD, we share a deep appreciate for the history of all things railroad. As part of our mission to preserve railroad history, we collect graffiti from decommissioned railcars with the intention of creating a museum for freight graffiti. BM 3375 represents one of our early preservation efforts.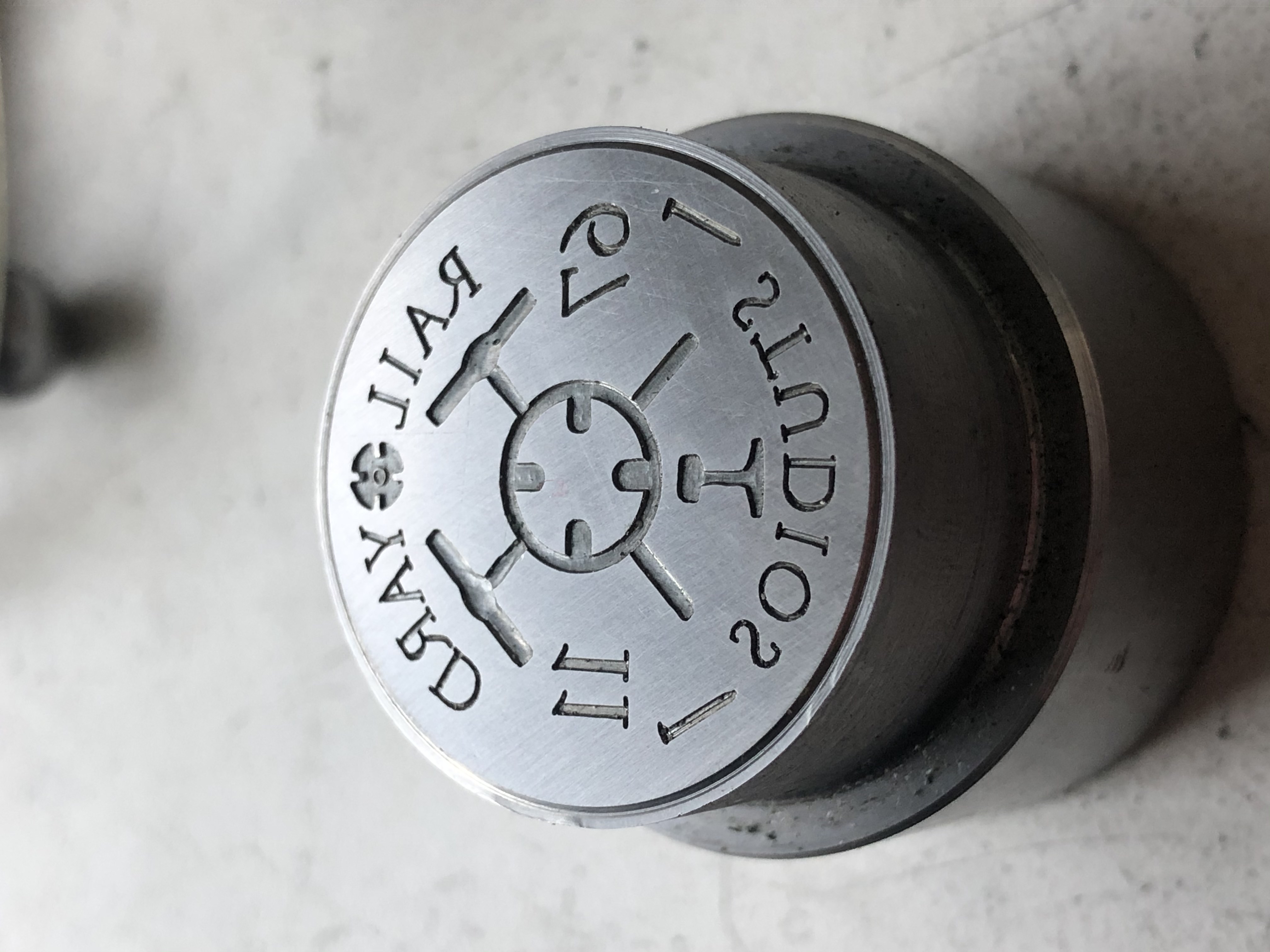 Shire Post Mint
In the interest of offering the highest quality coin possible, we partnered with Shire Post Mint. Crafted entirely by hand, their work maintains an old world look and feel on par with the high-quality fantasy coins they craft in connection with Game of Thrones and J. R. R. Tolkien.
Who Gets the Money
ICHABOD will be the beneficiary.
Rail Yard Studios has put a great deal of time and effort into the harvesting and preservation of this piece which we can likely never recoup, and ICHABOD has been very supportive of our efforts toward a planned freight graffiti museum.
The Offering
Read Carefully as different batches of numbers come with different perks and incentives!
and preserving the panel, we chose to remove a ladder rung that sticks out off the end of the piece, and it is from that section of the car that these chunks of steel come.
Only coins 000 through 100 will include certificates signed with ICHABOD's hand style.
All coins are 1.19" diameter and are tumbled to give them each a uniquely worn look and feel.
Numbers 011 through 100 (89 pieces in total) include:
(1) one BM 3375 Coin in Plastic Bag in velvet bag

COA signed by Rail Yard studios Founder, Robert Hendrick (note that these will NOT bear ICHABOD's handstyle signature)
Numbers 101 through 249 will include:
(1) one BM 3375 Coin in Plastic Bag
COA signed by Rail Yard studios Founder, Robert Hendrick (note that these will NOT bear ICHABOD's handstyle signature)