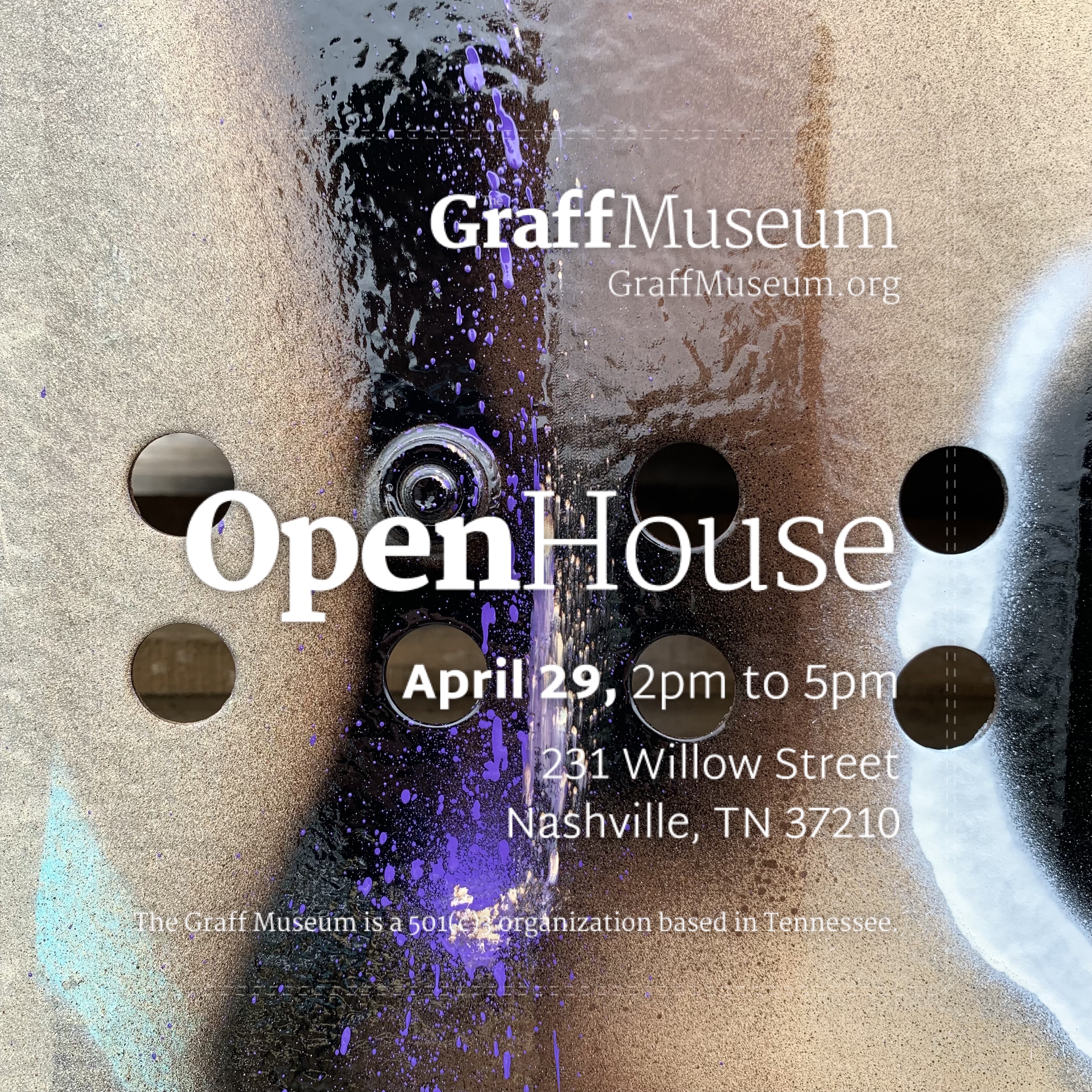 How Did We Get Here?
We have a passion for all things railroad.
That provides a simple explanation of a rather long journey.
Open House this weekend - April 29 from 2-5 pm.
Railroad Services
Our adventure began in 2001 with the purchase of a railroad contracting firm, Railroad Services. It's a small company that services industrial spur clients – manufacturers in the automotive industry, agricultural clients and a few railroad-industry specific companies. Among those are a handful of Fortune 500 companies.
Most railroad firms in our space operate large crews with lots of heavy equipment, and they send their employees out on jobs away from their families for days, if not weeks or months, on end.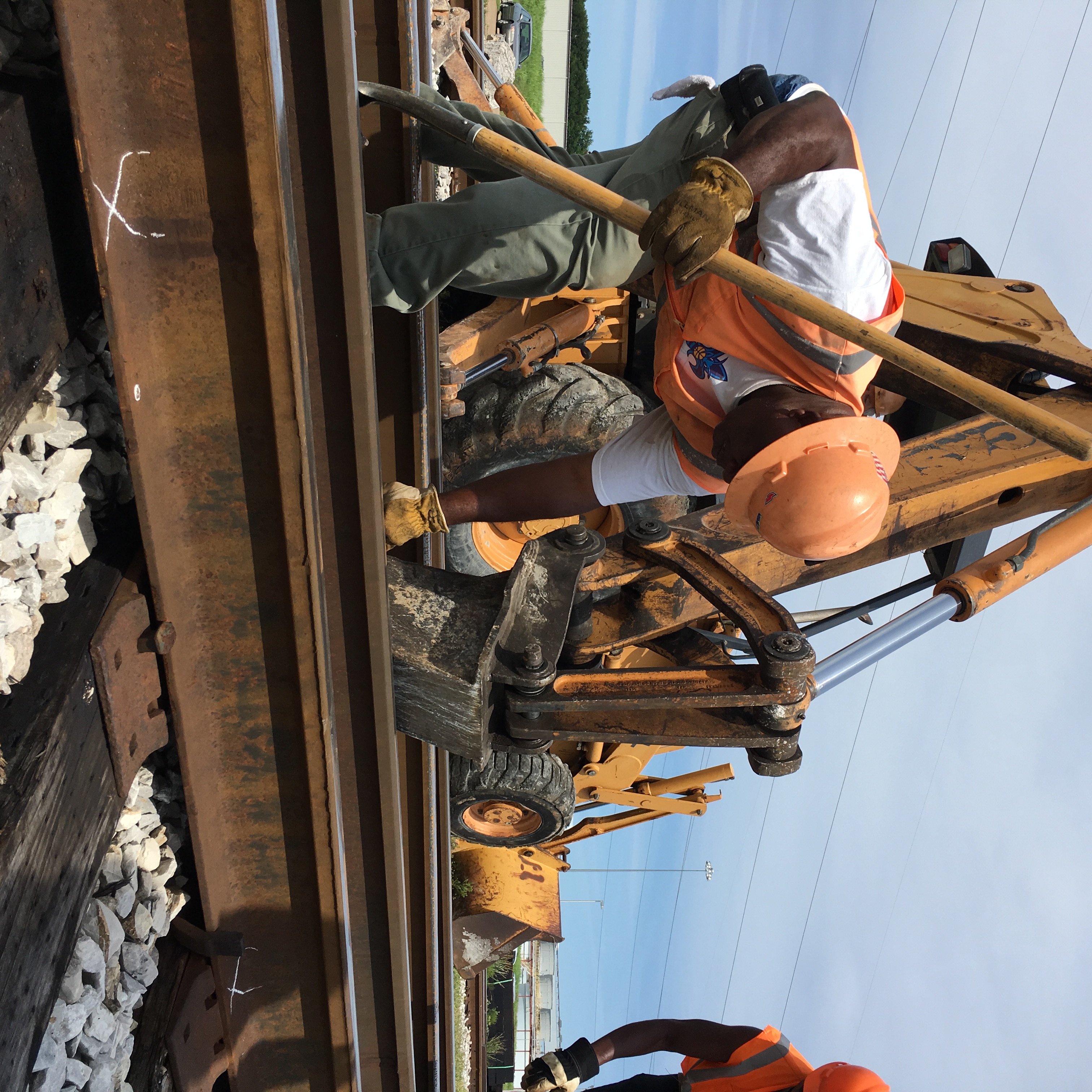 Our team is different. We have a small crew and a modest amount of big yellow machines. We repair track inside of locations in Middle Tennessee and South-Central Kentucky, and our folks are home in their own beds every night. They replace wooden crosstie timbers and rail. They drive spikes by hand some days. They still railroad the old-fashioned way because it works, and because the jobs tend to be small – think a few hundred feet of track to maintain versus a few hundred miles.
We stay busy.
While the railroad repair and maintenance business has been a mainstay of our portfolio, it's not always been the best of times. That's what finally spurred us to create Rail Yard Studios.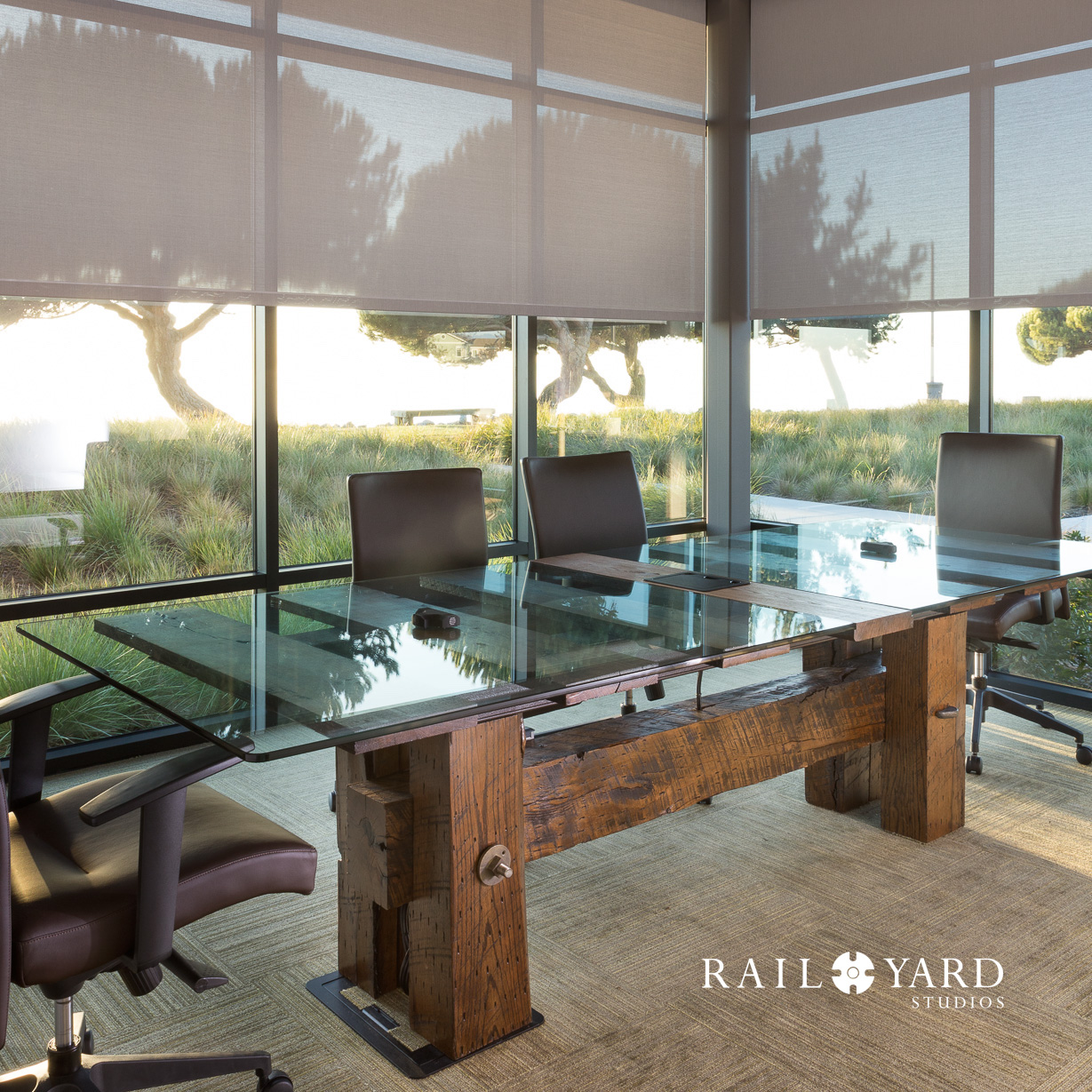 Rail Yard Studios
In 2011, we embarked on a project that piqued the interest of company owner Robert Hendrick, and served the purpose of keeping the rail crew engaged in between jobs.
With a degree in Industrial Design, Robert envisioned furniture crafted from reclaimed rail components – steel and hardwood timbers.
Like all good entrepreneurial ventures, it started in the garage of Robert's parents. It was only fitting since Pop (Robert's dad) had brought him up building furniture from various items he would find in buildings slated for demolition.
The metal was easy to come by – iron cast offs from jobs where the railroad construction company engaged.
Wood timbers we sourced from one of our clients – a tie manufacturer. Working with them, we figured out a safe and sustainable way to source solid hardwood timber crossties. We source culls from the manufacturer that allows them to make better use of ties that don't make grade. It also allows us access even when lumber is scarce. There is always a portion of the wood that will not make grade, so we rarely have issues with access to material.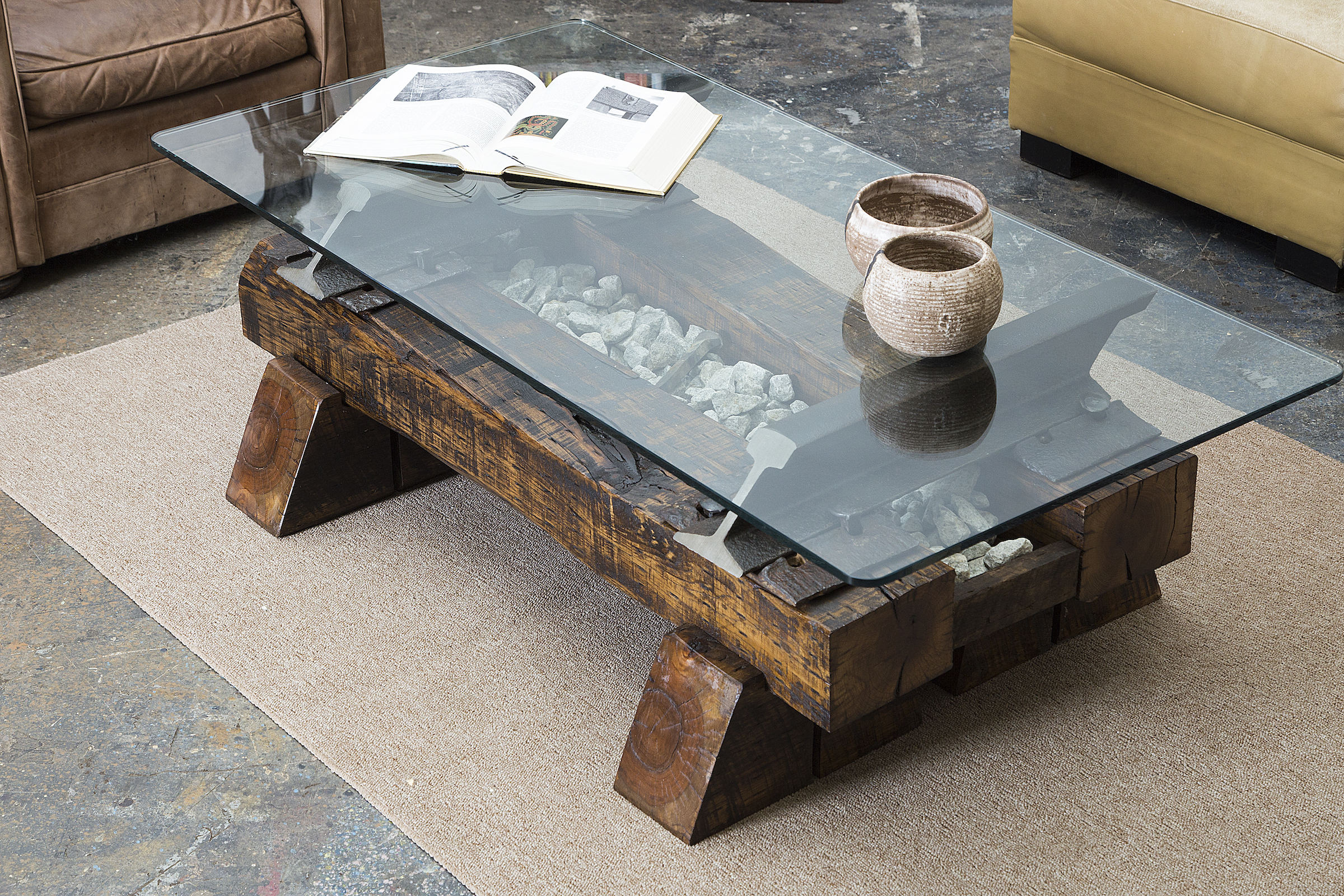 We began with a handful of original designs including our Ballast Deck Desk, Switchpoint Desk, Sleepers Coffee Table and Double Track Credenza – just to name a few. We used glass tabletops for most of our collection to show off the structure of the tables we crafted, but that would soon change and lead us down another path.
Our first public showing was through a local art gallery. The response was far better than we could have anticipated.
Things grew from there.
We attended art shows across the country – One of a Kind in Chicago and Kimball Arts Festival in Salt Lake City and Western Design Conference in Jackson Hole, Wyoming, for example.
Then the railroad industry caught wind of what we were doing. Turns out railroaders like railroad, and we were and are 100% railroad.
We had found our people.
Graffiti Enters the Picture
As we evolved, we looked to move away from so much in the way of glass tabletops and incorporated more wood.
We sought to add graffiti covered steel harvested from railcars, but the reclaimed steel had more than a few issues with it when it came to fabricating a tabletop. So we shifted a little. We loved the steel of the boxcars, hoppers and gondolas and the graffiti that came with it.
We partnered up with Troy Duff to create some tabletops on regular steel. And then we got hold of what we can only describe as "steel canvases" – sections of railcar that we thought made great compositions for graff artists to compose on.
Troy was all in as we developed our first show featuring his work on railcar panels.
From there, it was off to the races.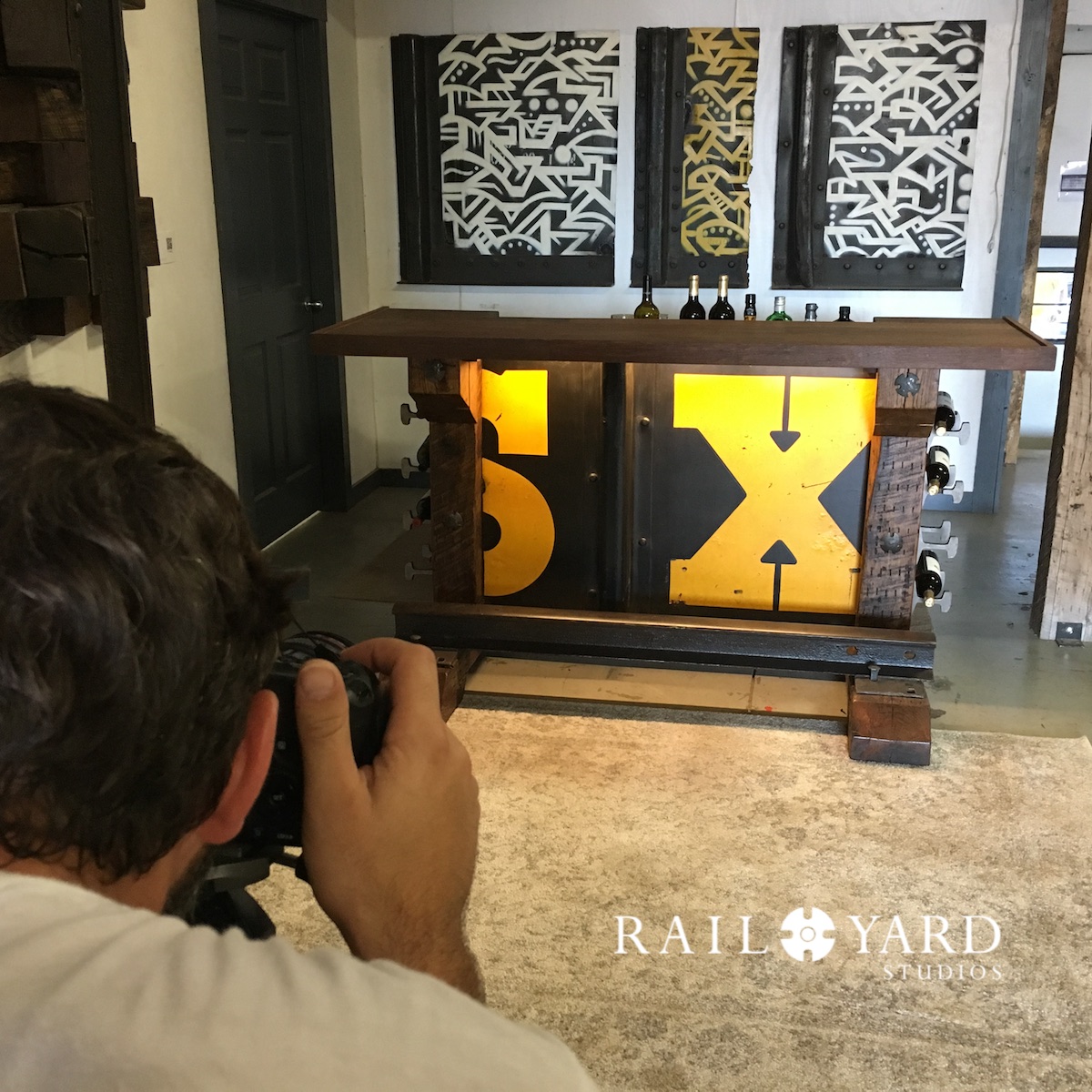 We embarked on a project with CSX that gave us access to some railcars. The floodgates opened up.
We managed to gain access to a handful of cars as they headed for scrap – getting last look at the rolling stock before it got torched and cut down to scrap.
We harvested a few pieces.
We didn't know what we were doing, what we would do with them, and to be quite honest, our eyes were waaaaay bigger than our stomachs for the things we did early on. The sixty foot long six-foot-high side of an open gondola featuring an ICHABOD piece stands as proof that we were in over out heads.
Then #ICHABODtheRailGod came calling. He had seen that we had harvested one of his, and suddenly, the most notorious and legendary freight writer active today was in the fold.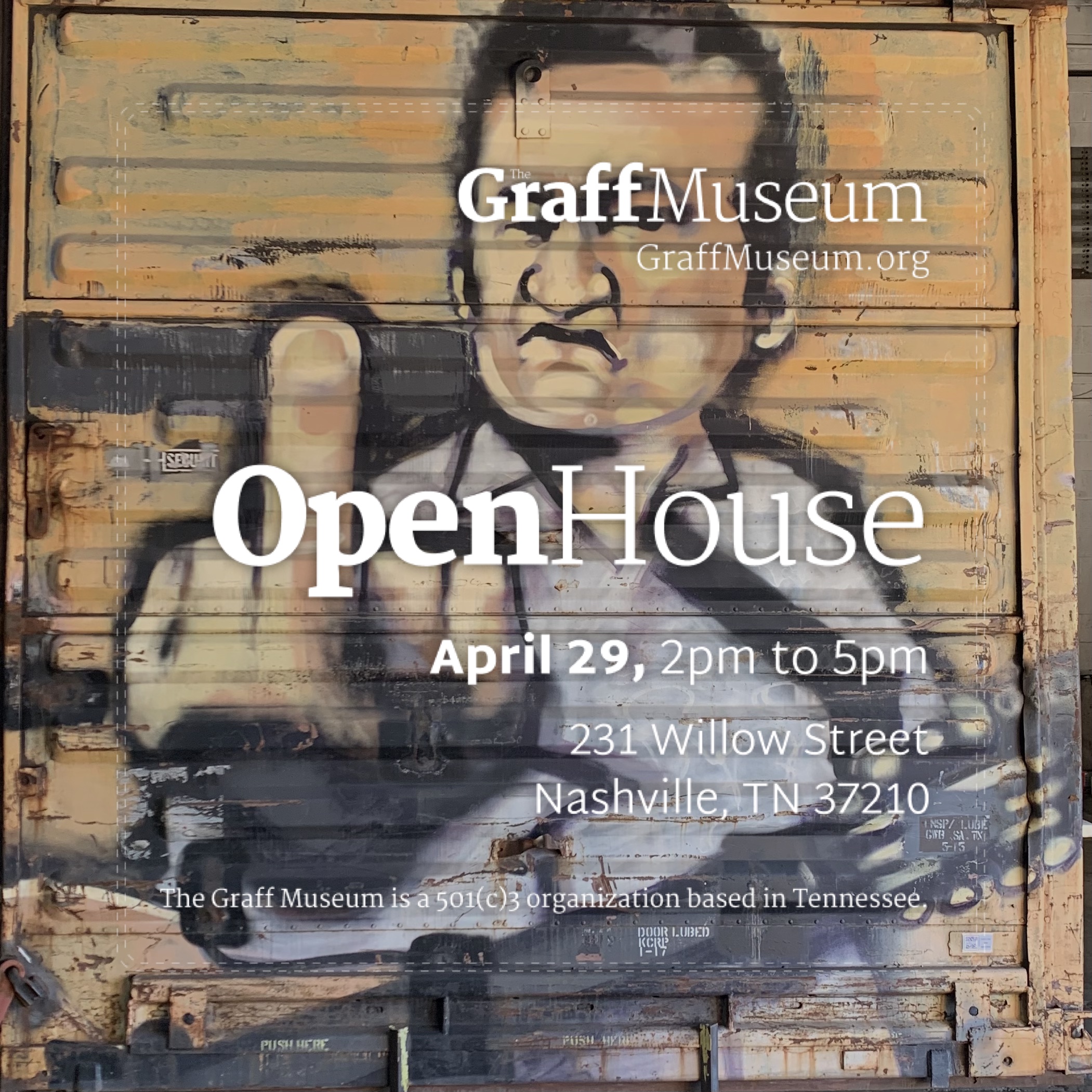 The Graff Museum
We began to accumulate a nice little collection of art – pieces salvaged from railcars headed to scrap.
Let's be honest. We thought about selling them.
But we wanted to do right by the artists.
And we had to do right by the railroads.
Compensating the artists for the work simply would not fly with the railroads – we would lose access and the whole effort would fall apart.
So, we set about putting together a museum.
With a healthy dose of help from ICHABOD and COUPE of Legends Thursday fame, we began to establish the Graff Museum.
We focused on preserving the art at first. We knew that addiction and behavioral health issues plagued the graff community, and addressing recovery was always a subtext. It wasn't until we elevated the element of recovery to equal billing with the preservation of the art that things clicked.
Through the museum, we preserve art and we bring awareness to the issues of recovery around the graff community. Our goal is to get the museum funded to the point where we can begin to offer the opportunity for recovery through programs like Music Cares provides within the music industry.
Indirectly, we're using our efforts as a museum to allow the artist we harvest to give back to the graff community as whole through our efforts.
It's called the Graff Museum, but already friends of the museum have begun calling it "The Graff"
And there's more coming.
We will keep evolving and changing.
We will continue to move forward and strive to do the right thing.
Whatever we do, rest assured, we're going by rail, and we're going traveling in style.
Feel free to follow along as we continue the journey.