Each large piece of furniture in our collection be it a desk, dining table, bed or wine rack comes with a box that completes the customer experience. We pack a lot of history into the package including the origin of the materials and the story behind them plus a few necessities and niceties.
So what's in it?
The Certificate of Authenticity is nestled in the bottom, and that's the real treasure. But let's start at the top and work our way down to that historical record.
Handling
For starters, we include a couple of pairs of heavy leather gloves. Our furniture carries a rich tradition of hard work and industrial materials. Our hands bear callouses from handling rough unfinished timbers and the sharp edges of hardened steel. But as our materials make their new home in a more refined environment, we recognize that it requires more thoughtful handling.
Installing the stone ballast in our Sleepers Coffee Tables and Ballast Deck Desk is a good way to conceal your identity. The broken granite has enough of a tooth to remove fingerprints if you handle it too much.
Softening Rough Edges
Desks, dining tables and coffee tables that include a glass top get clear vinyl discs to provide a buffer between steel and glass. They also help to level the glass out. While floor level can vary, so can other things.The hardwood flooring of a home office, the tiled kitchen floor or oriental rug covered living room all need to be protected from the massive timbers and 100-year old carbon steel. So we include heavy duty felt pads to protect those more delicate surfaces.
We admit that our reclaimed vintage materials are perfectly imperfect. Hard and soft spots in wood and steel will bend the blade of a saw compromising perfect cuts, but we've learned to make our work easily adjusted.
When it comes to the clear vinyl glass protectors, we send extras, so that if the elevation is a little off, you can add an extra one or two as needed for perfect leveling of the tabletop.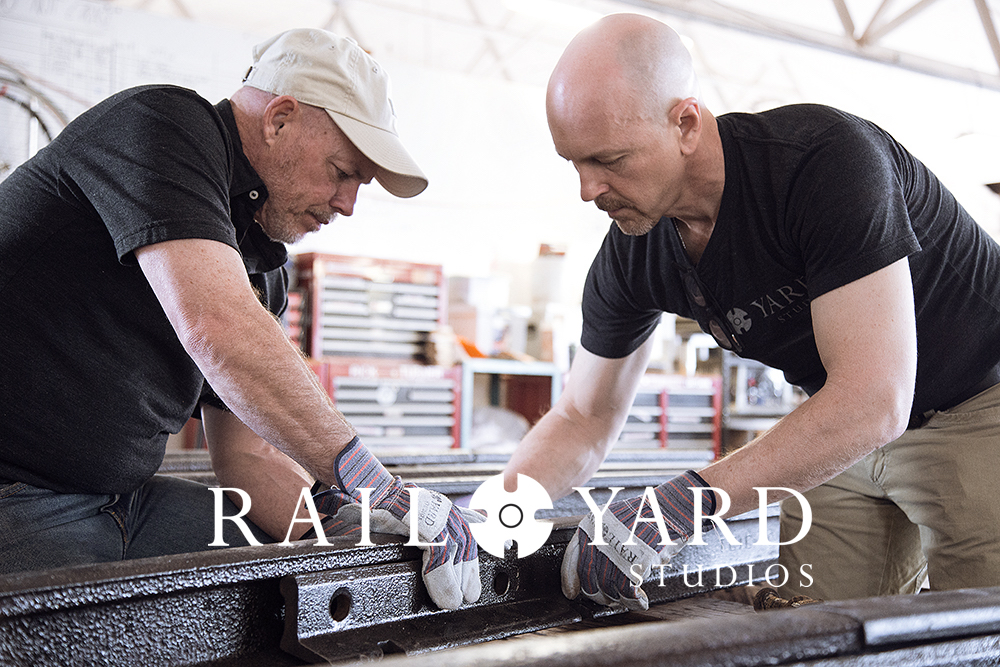 Assembly Instructions
Our assembly instructions get a lot of attention. Our furniture proves to be far simpler to install than people expect. That's because we've gone to great extent to make our pieces easy to put together.
Easy rarely means simple. We put a lot of thought and care put into how each of our tables come together. The instructions are an easy to read step by step guide. Every page includes the name and personal cell phone number of Rail Yard Studios founder, Robert Hendrick. If you have a problem, we want you to talk with the guy whose name is on it.
Certificate of Authenticity
From wine racks and coffee tables to conference and dining tables, each piece from our collection has its own unique history from the sourcing of the timbers to the foundry marks on the rail. We capture all of the details – typically the month and year of manufacturer as well as the foundry name on the steel. We'll even point out some of the finer details that explain the wear in the rail and how it occurs.
For the timbers, we'll recount our commitment to providing you with an environmentally responsible product. We use cull timbers or seconds from the tie plant. These are great heavily charactered pieces of wood that won't meet grade to carry a 260,000-pound railcar, but they still have great structural integrity.
The hand-written number inside a circle documents the date nail number on the piece. We gather these vintage steel artifacts from abandoned railbeds and use them to individually catalog each piece we craft.
And then, we put our name on it. Rail Yard Studios founder, Robert Hendrick personally signs each certificate attesting to the authenticity of the information.
Now when you order, you know what to expect beyond receiving an heirloom piece of furniture crafted from authentic Industrial Age materials.