Ryan McGrath, President of Asset Plus Companies, leads a premier commercial real estate firm in Houston, Texas. With over 300 properties under management, Ryan has a strong track record of success guiding his team in designing, developing and building large architectural projects.
He had a vision for his new office suite - minimalist, yet rugged industrial with a generous splash of accent color. During the process, we got the pleasure of spending some time with the former investment banker from Goldman Sachs turned real estate mogul.
We met Ryan through Michael Burcham, the mentor who has guided the successful real estate developer since he pursued his MBA at Owen School of Management at Vanderbilt University. Successful leaders like McGrath learn from other entrepreneurs like Burcham, and the gets additional insight from the collection of books in his office representing a Who's Who of notable business people.
For Ryan, leadership requires focus, and that translated to a clean and simple design for his corner office in the new company headquarters just outside of downtown Houston. A desk, credenza and in-office conference table complemented by two powerful and very colorful artworks make up the majority of the objects in the room, along with ten or twelve carefully selected books.
Minimalism: 3 Pieces of Furniture and 2 Works of Art
Ryan commissioned a custom standing height version of our signature Switchpoint Desk. With a modern look and feel, the design features cantilevered supports topped with a blue-green copper patina desktop. For the large office, it would be one of only three pieces of furniture in the room.
If the style sounds minimalist, it could be a queue from Elon Musk, CEO of Tesla and SpaceX, a strong advocate of simple style and the subject of one of the books perched on the custom credenza behind Ryan's desk.
Minimalism requires attention to detail. Since there are few objects, each piece receives a great deal of attention allowing people to appreciate the details in each piece. It's the same reason so many art museums and galleries use a simple white space to allow each work to shine.
A custom credenza from Rail Yard Studios flanks the desk with drawers and cabinet storage and a section of jointed 1899 from the steel mills of the industrial tycoon himself Andrew Carnegie. The distressed oak finish lends the piece a distinguished feel and a sense of old-world craftsmanship made to transcend time.
Color Accents
Just above the credenza hangs an original graffiti piece – a collaboration between Rail Yard Studios and street artist Troy Duff. Painted on a section of railcar door, the piece is one of the originals from our Project Boxcar series.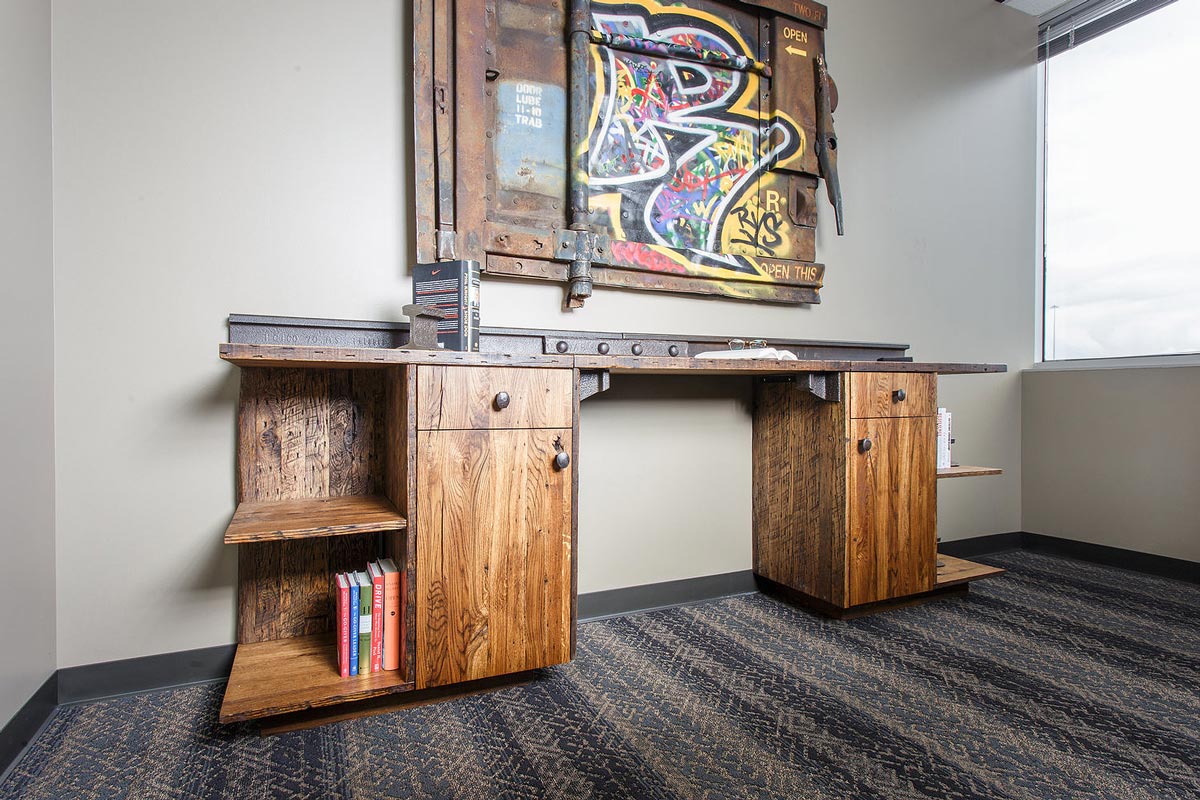 "Shoe Dog" by Phil Knight, the founder of Nike sits beneath the oversized art piece. Great entrepreneurs, like Phil Knight, know the value of bold color, especially against a neutral canvas.
The red, blue and yellow colors of the spray paint coordinate beautifully with the painting from Erik Wahl on the opposite side of the room.
Erik Wahl, painter, and astounding graffiti artist, author and motivational speaker, created an abstract portrait of The Statue of Liberty in bright red, blue and yellow when he spoke at an Asset Plus corporate event. On a more symbolic level, it connects with the copper desktop and its light blue-green patina similar to that of the original landmark in New York's harbor on which the painting is based. For Rail Yard Studios, it represents yet another connection to Lady Liberty which you can read about here.
At the center of the room stands the in-office conference table, the place where decisions get made, or at a minimum, consensus is achieved.
The Frog Conference Table captures the point in a railroad track where a train transitions between two routes. It is the central element in a switchpoint, a fact that ties this piece yet again back to the standing Switchpoint Desk that shares the corner office.
Decisions can be difficult, and there's a certain perspective unique to Texans, so it's fitting that "Decision Point" by George W. Bush, a fellow Texan holds a spot on the credenza.
Leadership requires certain innate abilities, but nurturing those through a constantly learning and drawing on the experience of others is what sets the truly great ones like Ryan apart.
We're honored to be a part of his style and thrilled to have had the chance to learn some new things from another fantastic entrepreneur.