We get involved in a lot of industrial style interior design projects for both home and office. Often, there is a strong connection to the railroad. Sometimes it's the personal history of the people involved – they have railroaders in their ancestry.
A great part of the history of the railroad is the completion of the transcontinental route. It took place at Promontory Summit (not Promontory Point as it is often cited) where Leland Stanford drove the "Golden Spike" connecting the eastern and western portions of the first American transcontinental railway.
One project took us to the mountains of the Southwestern United States and involved descendants of the folks that drove in the golden spike. The installation would be just a few miles south in Park City, Utah the famed skiing community just outside of Salt Lake City. It ultimately turned into several projects.
Custom crafted furniture for their freshly constructed home is where it began – a coffee table and a hutch with shelves for the nook at the front entry. Tucked away on a hillside just outside of town center overlooking the mountain resorts and ski slopes, the look and feel fit perfect with the modern Western design style décor.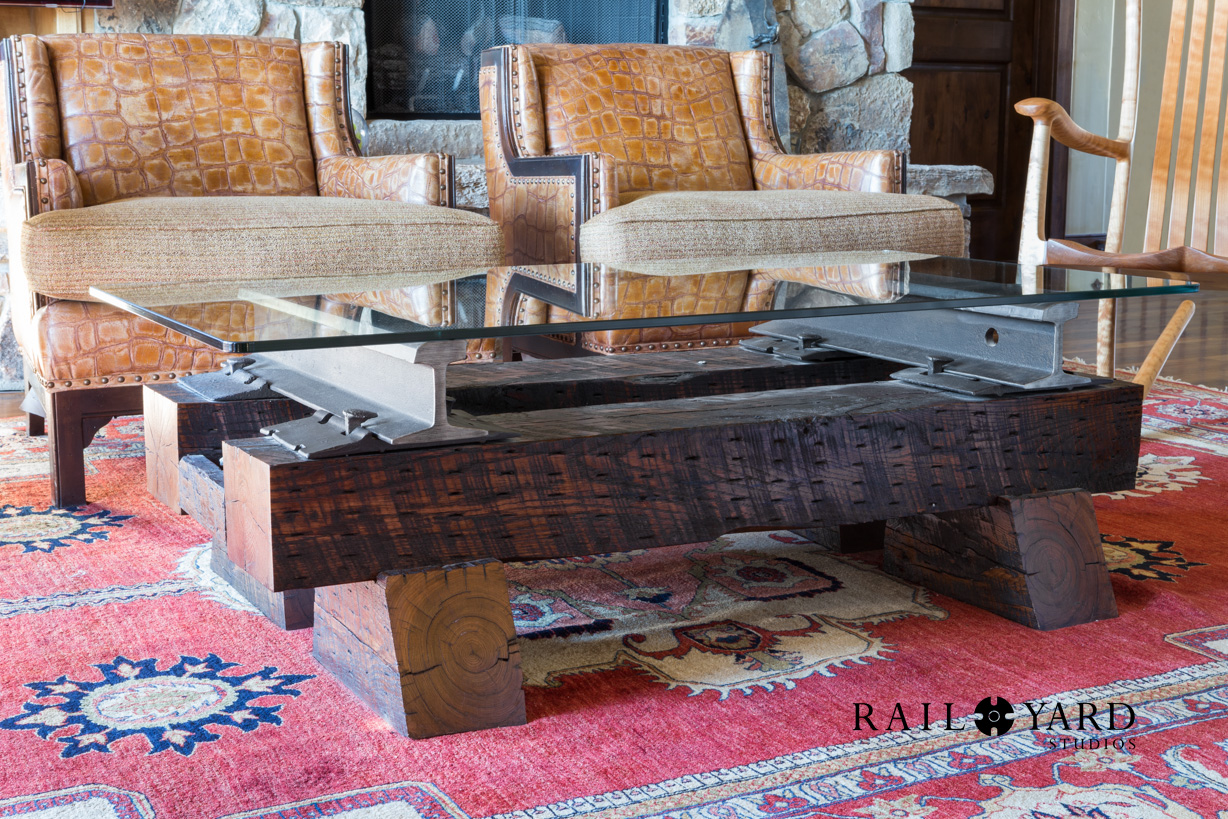 Set against the backdrop of a gorgeous stone fireplace, our Sleepers Coffee Table helped define the tone of the great room. The simple lines of the table set worked perfectly with the Oriental rug and the leather chairs to give warmth to the space in the great room of their new home.
Pleased with the results for their home, they invited us to help with the design of their modern offices in the business district of Park City.
With a craftsman style interior design décor, the look and feel redefined the modern Southwestern aesthetic. It evoked the classic architectural style of Frank Lloyd Wright with a modern touch.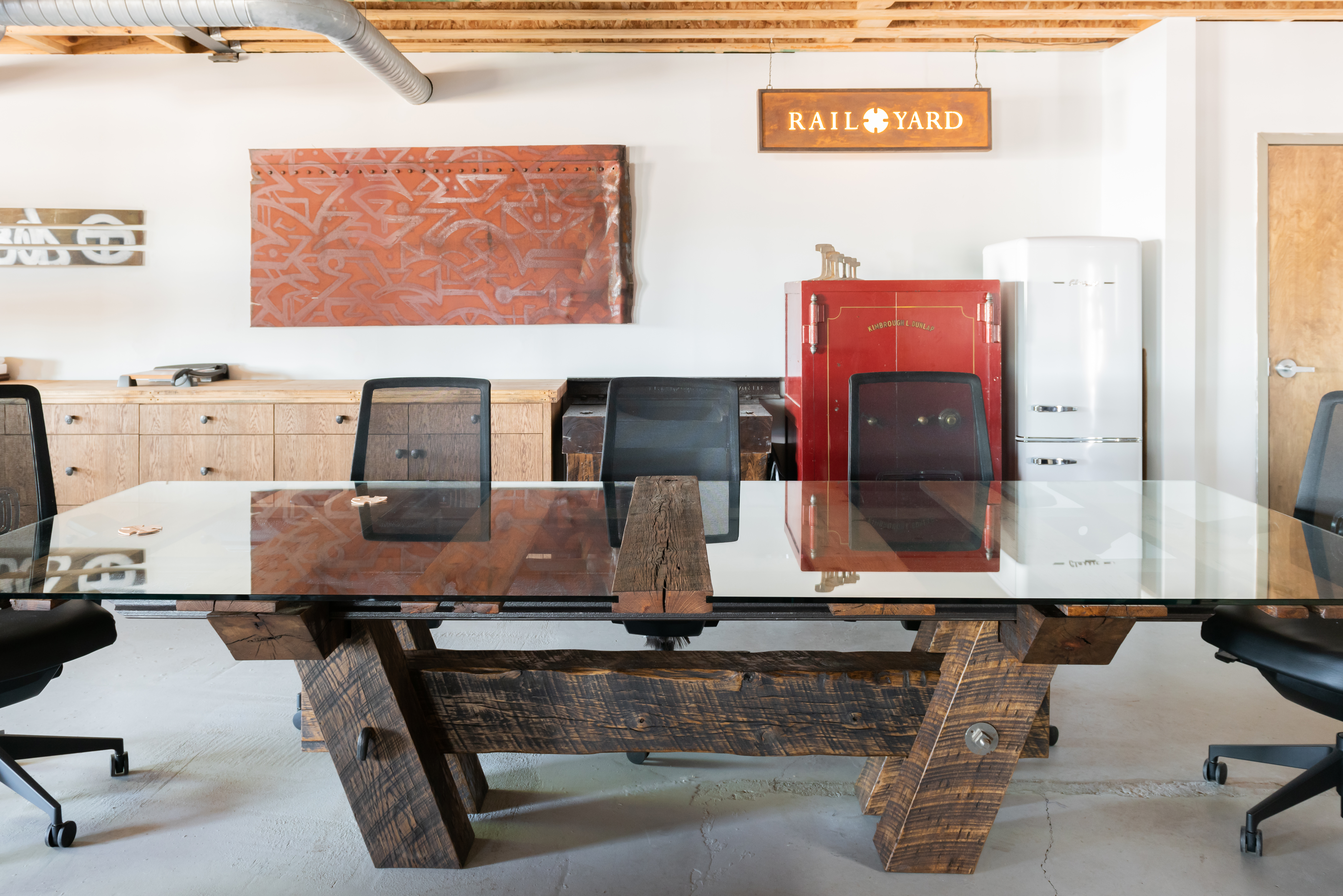 It was clear that railroading was in their blood as was their appreciation for good design – people a lot like us!
In the boardroom, we custom designed a credenza with drawers and cabinets featuring long sections of rail for the backsplash and the legs. In keeping with the authentic materials for the project, we installed drawer pulls and door handles crafted from spike heads – each one individually unique and one of a kind.
Positioned in the same room as our Streamliner Conference Table, we kept the lines clean. Cable runs allowed the HDMI and Cat 6 cables along with the 100-volt outlets and charging ports to be nestled discretely in the tabletop.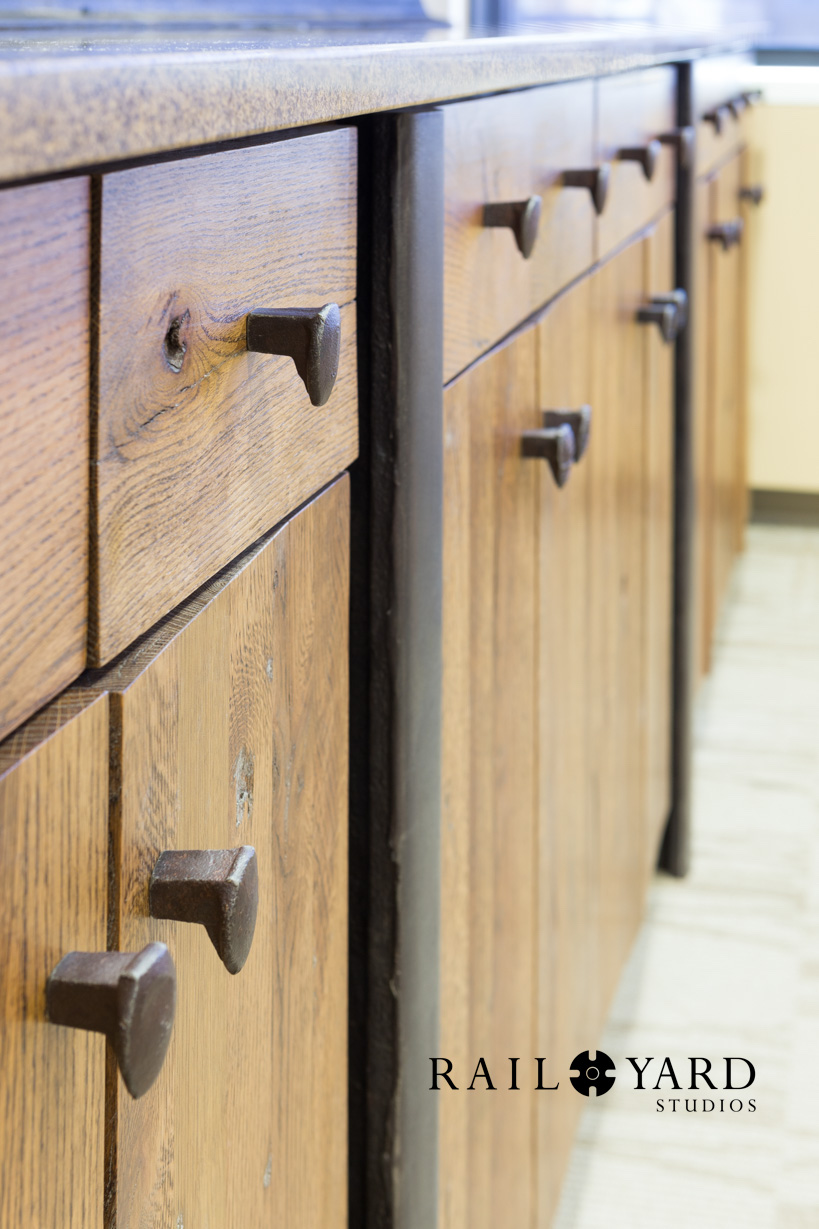 In the lobby, they selected our classic Double Track Credenza with its clean lines and simple design. For the coffee table, one of our Crossing Coffee Tables finished out the look with luxury leather chairs atop a richly patterned oriental rug.
We loved being part of bringing a design that married railroad artifacts rich in history with the modern industrial design style of today to honor their connection to the railroad.