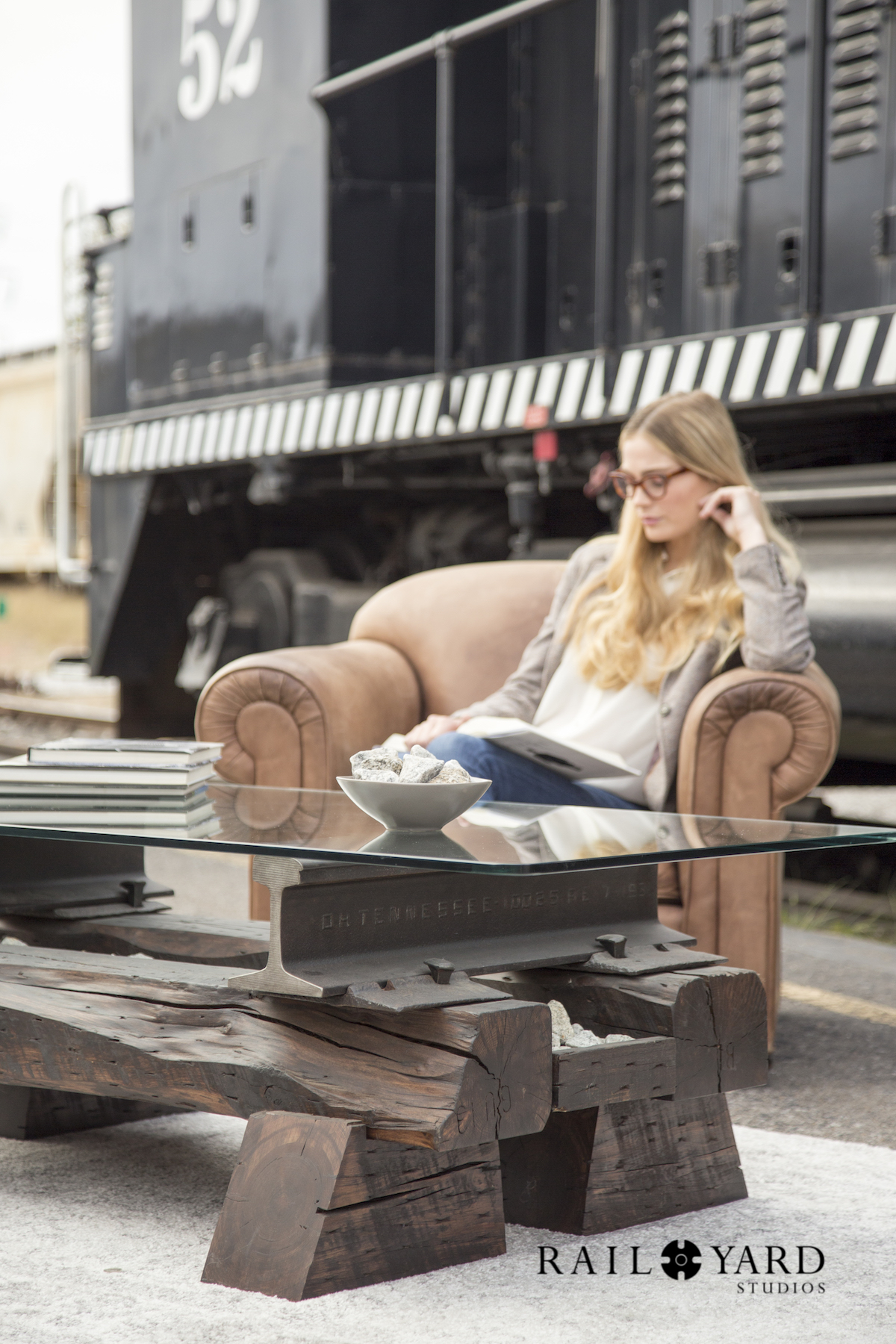 Ten years ago, we began crafting our custom desks, tables and other furniture from authentic railroad artifacts. It's a poignant reminder how quickly time passes. In the studio, we marvel daily at the dates and historic brands represented on the artifacts we take such care to document in the course of our work.
At Rail Yard Studios, we surround ourselves with the history of the Industrial Age. Dates forged in steel from the 1800s and 1900s appear alongside the name of railroad tycoon Andrew Carnegie, whose steel foundry interests would be acquired by J.P. Morgan as he built the U.S. Steel Company.
Other brands on the rails transported us around the country with foundry marks bearing proud names like COLORADO, MARYLAND, ILLINOIS, LACKAWANNA and TENNESSEE. Just as Carnegie did, most foundries would be acquired by J.P. Morgan and added to the holdings of U.S. Steel.
Rail Yard Studios Founder, Robert Hendrick, first spoke of preserving these relics with a business associate in a healthcare IT firm Robert had co-founded. Those spoken words took on a life of their own and set the wheels of our historic preservation efforts in motion.
PRESERVING HISTORY
Conceived as a modest way of preserving a bit of Americana, we also emphasized sustainability and responsible sourcing. We achieved that through the reuse of vintage steel and repurposed hardwoods.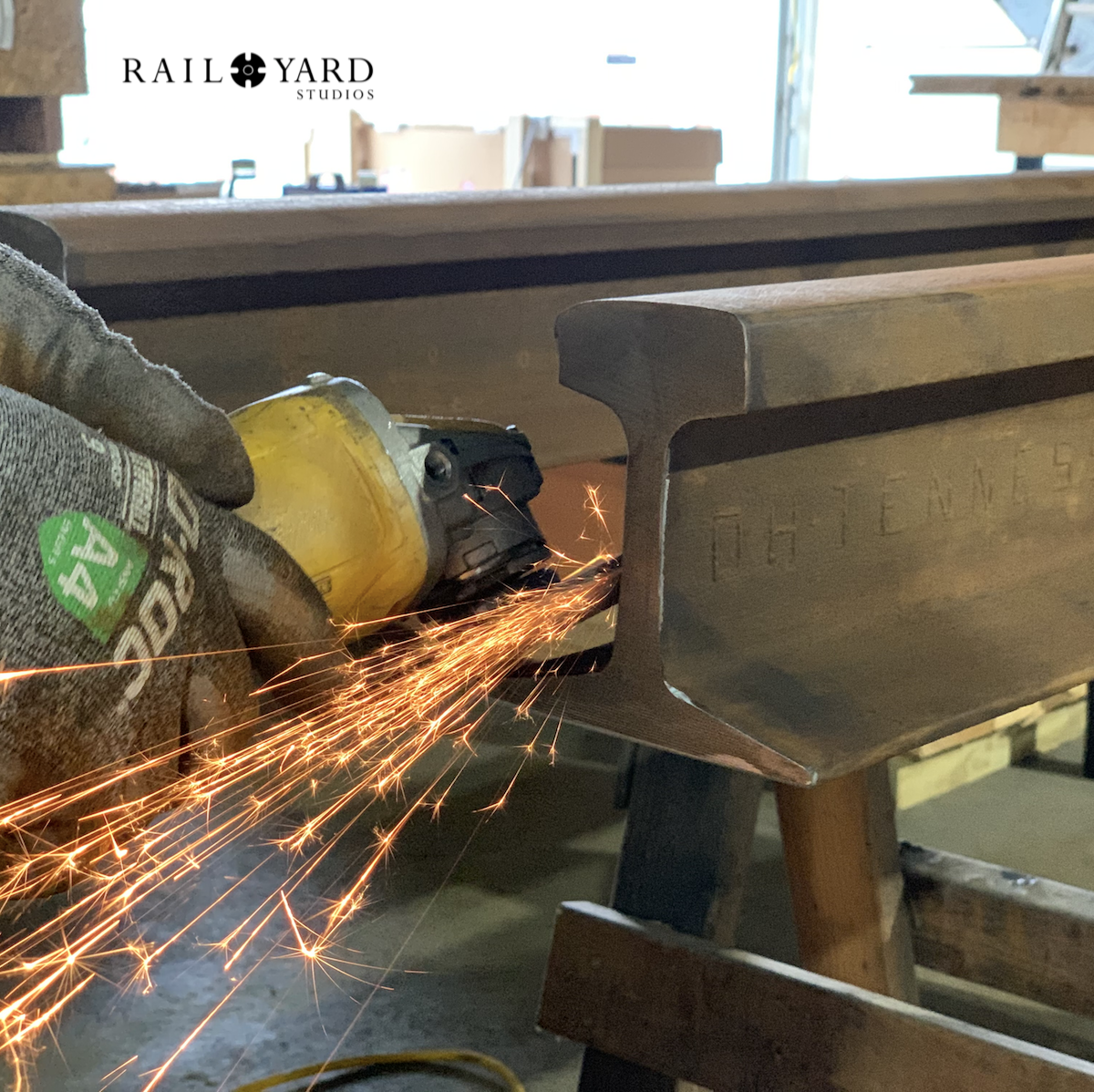 At the same time, the development of designs drew founder Robert Hendrick back to his professional training in Industrial Design.
The original collection included classics like our Sleepers Coffee Table, Double Track Credenza, Switchpoint Desk and a handful of wine racks.
Artist Herb Williams urged Robert Hendrick to bring his sketchbook drawings to reality. Herb would go on to curate the first public exhibition of our furniture at the Rymer Gallery in Nashville in February 2011.
Seconds pass slowly. Decades pass quickly.
TEAM
It started as a two-man team, Founder Robert Hendrick and his dad – or "Pop" as everyone knows him.
Pop lent his time, expertise and very importantly his garage to the first efforts. Other folks showed up from time to time to help, and Robert's mother (known to everyone as "B") fed everyone who showed up at their home.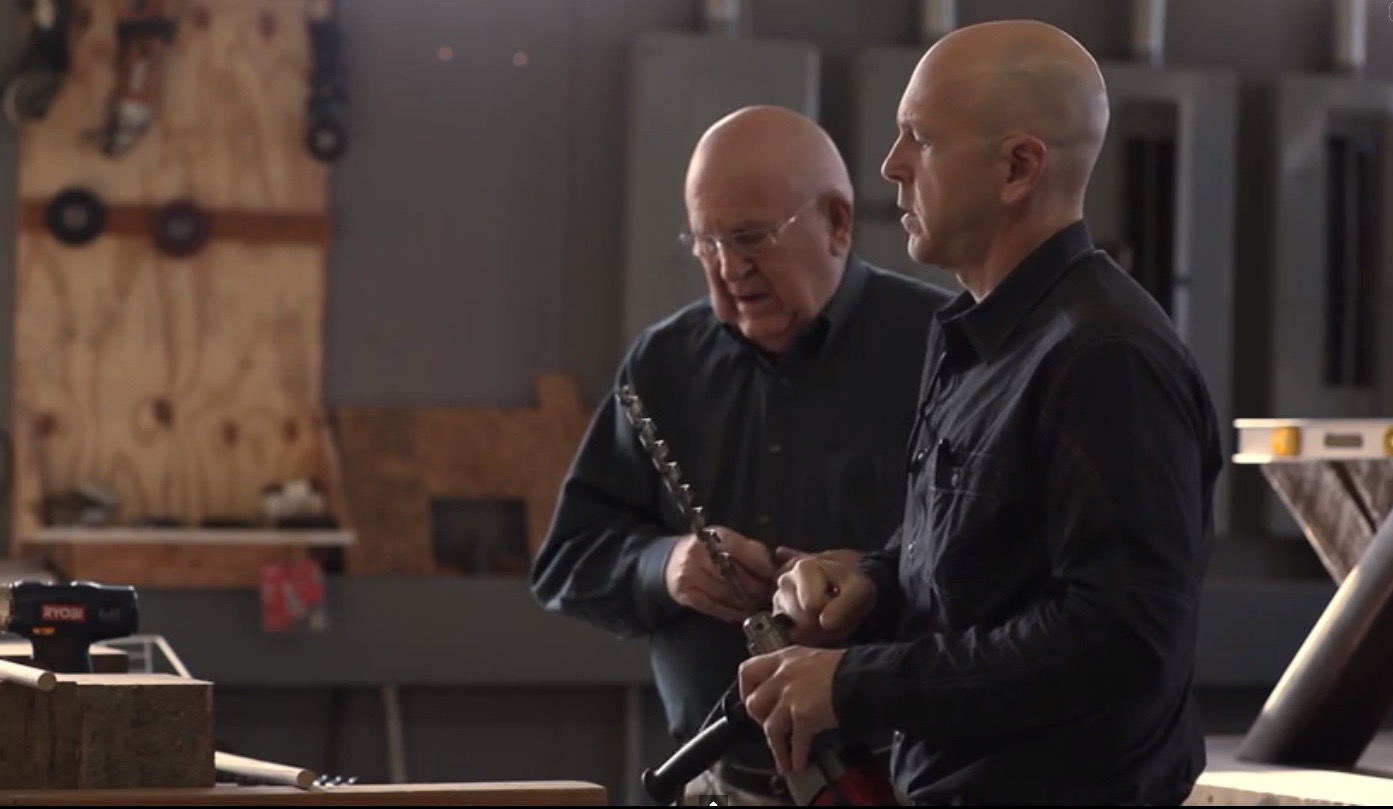 Like railroading though, the effort required a larger team, and it expanded with the various friends who would show up to help out.
In the early days, Rail Yard Studios represented a means to keep busy the employees of the struggling railroad construction company Robert had acquired in 2001. In 2011, Railroad Services, LLC was transitioning to a new phase that proved a prudent, if challenging, new course. It kept the crew engaged when they had down time, which was more often than any of us would have preferred.
Part of the Railroad Services crew then, and still today, Bobby Sheffield has been there for it all. Bobby worked track for decades, and while furniture making took him out of his comfort zone, he held on for the ride. Bobby would shake his head and look at us like we were crazy, but he made things happen. These days, he runs the rail crew for Railroad Services, and does a damn fine job of it.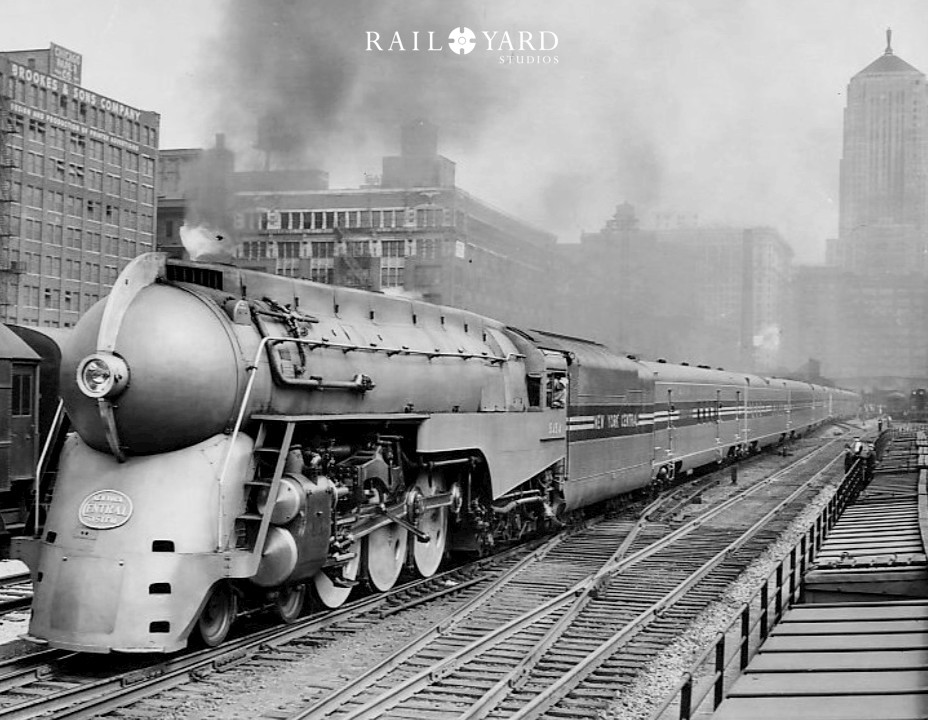 BUILDING UP A HEAD OF STEAM
We had been at it for about 3 months, when a friend said, "Can you imagine where you'll be in a year?"

We had no idea.
We spoke of making conference tables guessing it would be 2-3 years out.
Words became real again.
Within a year, a California architectural firm contracted us to build our first two conference tables for a west coast railroad engineering firm. Those two designs, our Streamliner Conference Table and the Wrong Side of the Tracks, serve as the foundation of our commercial office collection.
Fast forward ten years from the humble beginnings in Robert's parents'garage, and that determination to keep the crew engaged has paid off. Both the railroad construction and our custom furniture businesses are thriving.
We count architects, interior designers, law firms and countless railroad industry companies among our clients. We also grace the homes of many a fan of the Modern Industrial style that we so heartily evoke.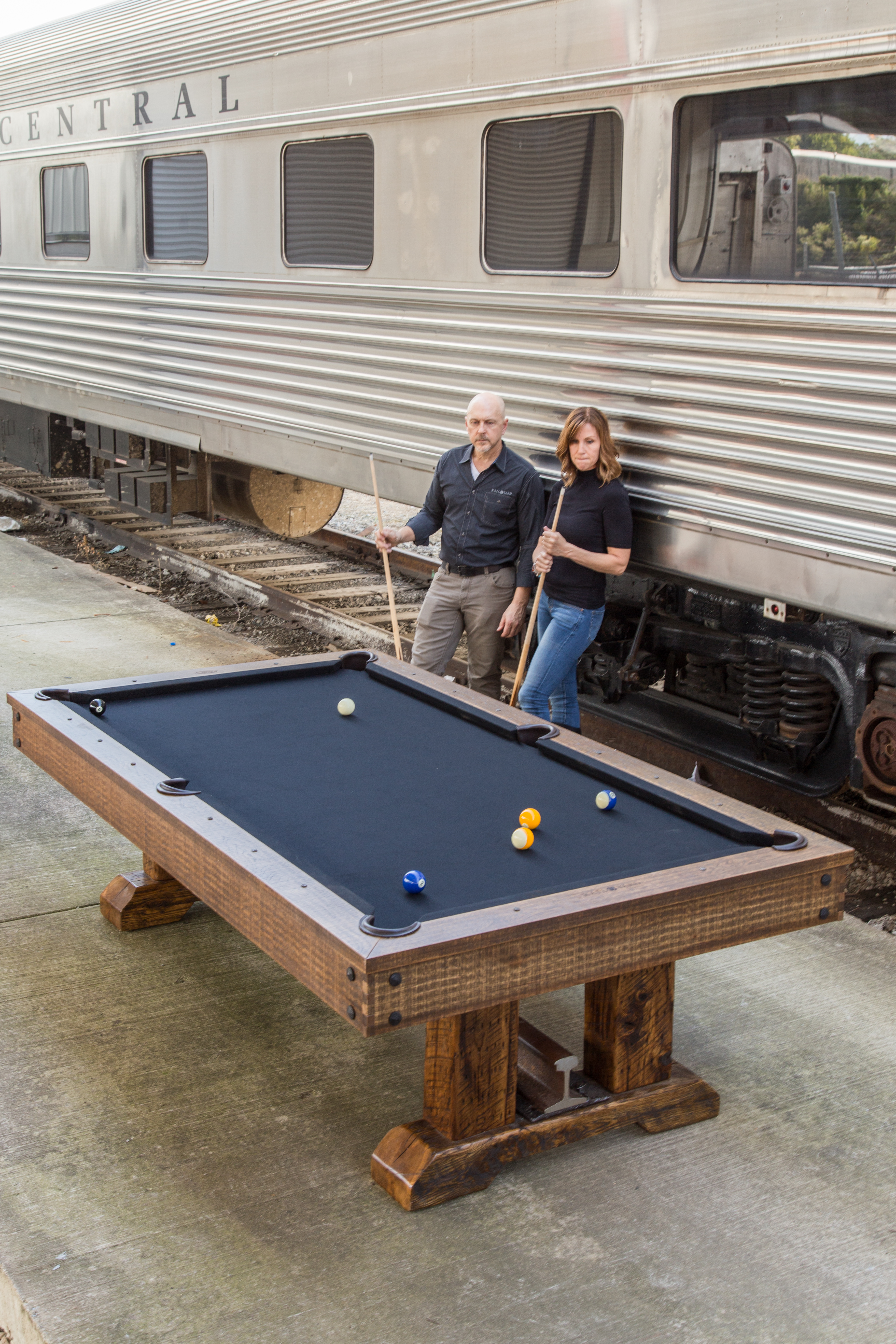 GAMING
In 2017, we spoke of building pool tables. So, we researched billiard table manufacturers. We found that great things are often right under our nose like Olhausen Billiards, our partner for building gaming tables of all types.
A fellow Tennessee-based manufacturer, Olhausen Billiards located in Portland, Tennessee stands as the largest pool table manufacturer in the world. That's because they make the best game tables around.
Olhausen operates like a family with its employees and with its network of 300 dealers across North America. We are proud and thankful to be a part of their family of products.
Within a year or two of making the first pool table, we added shuffleboard tables, air hockey tables, bars and most recently poker/game tables.
GRAFF
Somewhere along the way, we recognized the cultural importance of freight graffiti within the railroad and Americana landscape. We began harvesting graffiti from railcars and wound up deeply involved in the preservation of the freight graffiti culture.
We've become acquainted with some of the most notorious and important people in that culture. Folks like ICHABOD and COUPE – icons in that world -- have lent their help to our preservation of the culture.
The craziest (most unexpected) part of that has been the overwhelmingly positive response from the railroad industry. While we would not say they condone graffiti, we can say they know art when they see it.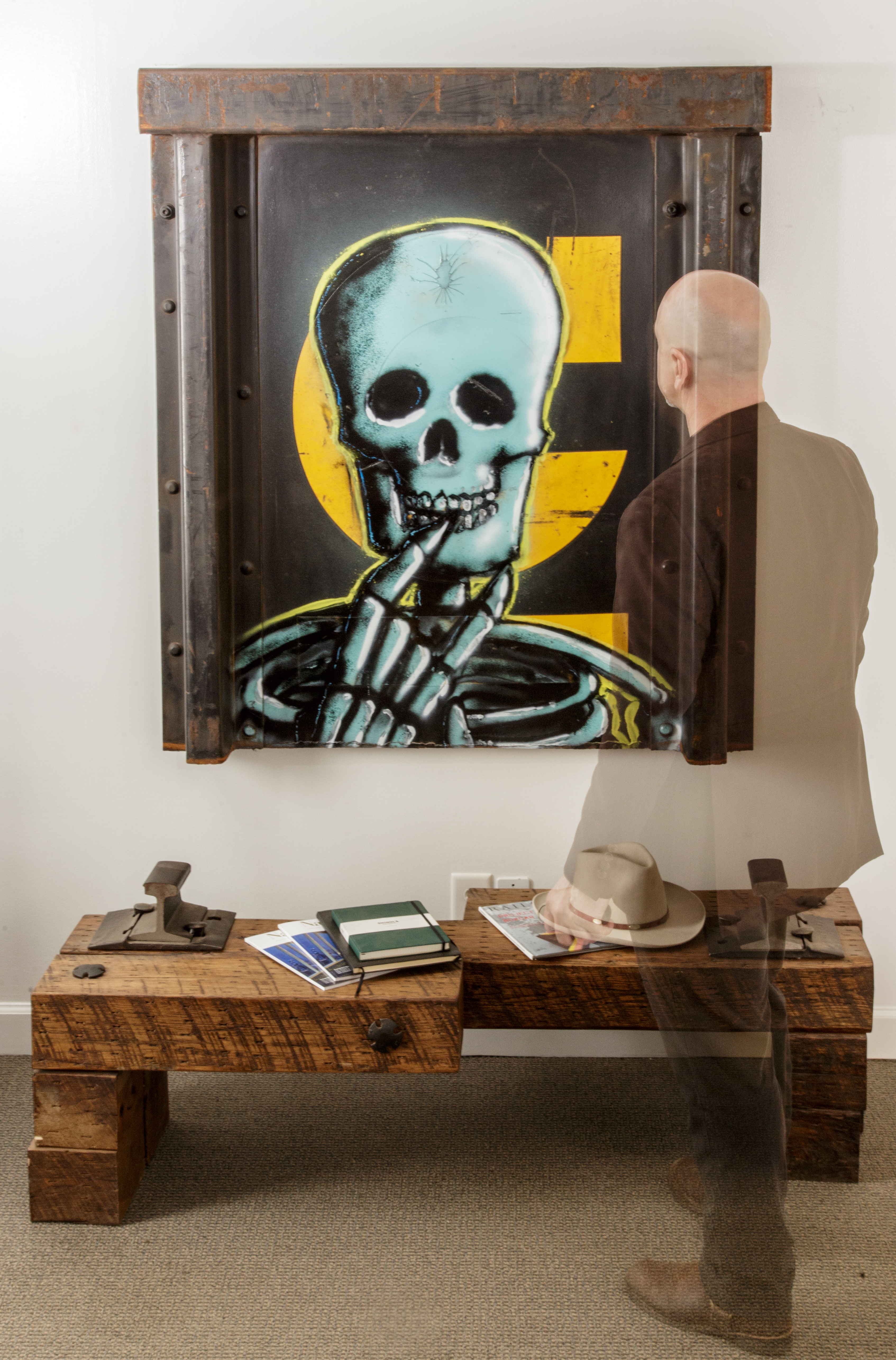 WHAT'S NEXT...
We talk about where we might be in a year – mindful of what we say out loud given our track records of speaking things into existence.
We'd like to do more public art.
We have grand ideas for a freight graffiti museum.
There. We've said it.
Now, you'll have to excuse us. We have some work to do.